Don Urbanus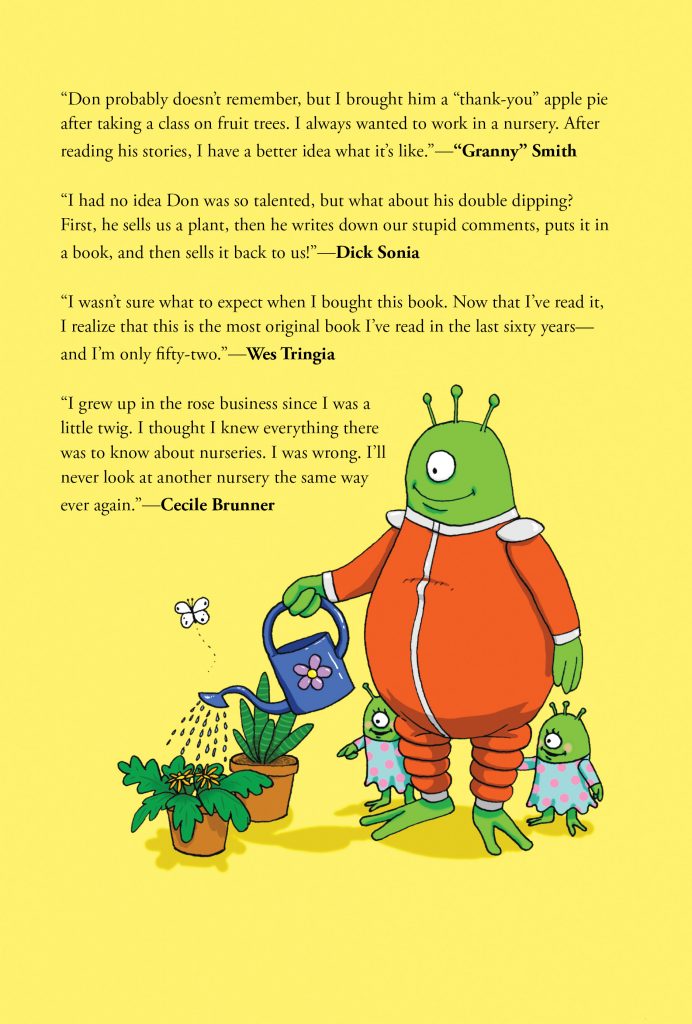 Illustrator: Erin Urbanus
About the Book:
Don Urbanus has finally collected all his stories that people have been clamoring to read. He offers some wacky stories from a nurseryman gone wild with imagination. Did you ever think that plants had feelings? That they may be aliens? Visit these hilarious stories and get a chuckle while using your green thumbs to turn the pages. Surprises inside include weird things customers have said when visiting the nursery. It will have you rolling in your yard. Illustrations by Erin Urbanus, his talented daughter.
About the author and illustrator: 
Don Urbanus
Don got his BS Degree (He loves to say that.) in Horticulture from Cal Poly, San Luis Obispo, in 1979. After college, he worked as a foreman at Boething Treeland, a large wholesale nursery in Northern California. In 1983, Don became the Production Manager for A to Z Tree Nursery, a wholesale/retail nursery in Los Gatos, and eventually moved to start his own wholesale nursery in Calaveras County on five acres in 1988, where he also designed and built his house. In 1997, he decided to get into retail by starting Rising Sun Nursery and renting a spot in Burson.  Five years later, Don bought nine acres and moved down the street to its current location in 2002 and has been in business there ever since.
Rising Sun Nursery has won many awards as Best Nursery/Garden Center in Calaveras and several times as Best Nursery in the Tri-County area. In 2013, Rising Sun Nursery was picked the Best Business in Calaveras County as well as the Best Nursery.
Don, a storyteller since childhood, has been writing short stories all his life, specializing in humorous tales. He wrote gardening articles and editorials for his local newspaper and stories for his nursery newsletter. Starting in 2000, for eighteen years, he participated in fundraiser melodramas for the local Friends of the Library—acting, singing, directing, and writing a dozen melodramas. In 2003, Don was chosen the Citizen of the Year by the Valley Springs Area Business Association.
This book is a compilation of a wandering mind, inspired by plants and people. Don is working on a mystery novel set in a nursery. There will be death, but not necessarily for the plants.
Contact Don at:
don@donsnursery.com
www.donsnursery.com
Erin Urbanus, 
Illustrations & Cover Art
An artist since she could hold a pencil, Erin has always held a focus on art. Inspired by the many comics and fiction novels read growing up, the many beloved pets she has had over the years, and the lush nursery that was her childhood home, Erin puts this inspiration into her own work, both illustration and studio art. An alumnus of Humboldt State University with a BA in studio art, she operates as an independent artist and freelance illustrator on the northern California coast.
Contact Erin at:
erys.menagerie@gmail.com
erysstudio.com
What People are saying about the book: 
"Don probably doesn't remember, but I brought him a "thank-you" apple pie after taking a class on fruit trees. I always wanted to work in a nursery. After reading his stories, I have a better idea what it's like."—"Granny" Smith
"I had no idea Don was so talented, but what about his double dipping? First, he sells us a plant, then he writes down our stupid comments, puts it in a book, and then sells it back to us!"—Dick Sonia
"I wasn't sure what to expect when I bought this book. Now that I've read it, I realize that this is the most original book I've read in the last sixty years—and I'm only fifty-two."—Wes Tringia
"I grew up in the rose business since I was a little twig. I thought I knew everything there was to know about nurseries. I was wrong. I'll never look at another nursery the same way ever again."—Cecile Brunner