Golden Chrysalis:
Wings for the Soul
$21.00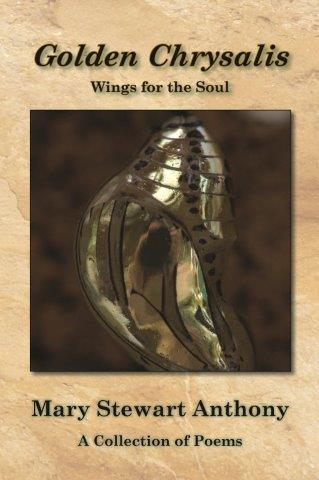 Description
Mary Stewart Anthony, author of Love Song of a Flower Child, a memoir that received a five-star review from San Francisco Book Review, presents her first collection of poetry written over a period of some twenty-five years. Her poems showcase the landscape of a mystical odyssey in which she connects penetrating observations of the natural world with portents of the spiritual realm. She digs deep to find the greater purpose and meaning of human existence and champions the preservation of the individual soul against the shallow mechanisms of Modernity.
What people are saying about Golden Chrysalis: Wings for the Soul:
Rediscover your love of poetry in Golden Chrysalis: Wings for the Soul. With tenderness and wit, Mary Anthony trains her poet's eye on the rich landscapes of our inner selves, connecting our earthiest experiences to a sublime purpose. A liberal dose of life-affirming language to refresh parched hearts. ― Sydney Avey, author of The Sheepwalker's Daughter and The Lyreand the Lamb
Golden Chrysalis: Wings for the Soul is filled with astounding imagery and that "the descriptive language takes my breath away. Some are parables depicting a tug-of-war between good and evil." In "Pilgrimage," Anthony says that "Each pilgrim carves a path of faith and/Leaves it for another who will follow." What a legacy to leave behind. I want to linger in silence, like the flower in "Ephrata" that "trembles under liquid light" as my spirit trembles under the beauty of words that heal the soul." 
-Denella Kimura, Poet, Waiting for Wings: A Child's Journey
Golden Chrysalis, Wings for the Soul is a book of transitions, of moving and evolving from one feeling, one consciousness, one reality to another. The medium of movement symbolically is the chrysalis, but in her rich poetic reality, the transformative vehicles are nature, love, sympathy, and faith. In many ways, these poems are imaginative homilies, sometimes rhymed, sometimes rhythmically moving, always earnest explorations of our place in a dynamic universe where changes happen beyond our control and challengingly, beautifully within our control. Mary Anthony's poems give our minds wings to see realities and imagine transformative possibilities." ― Dan Harder, author of Askew: Found and Lost in the Almost South of France
About Mary:
Mary Stewart Anthony
Mary, born in 1937, was the oldest of eight children in a
German Lutheran-Irish Catholic raised family and was raised
in New York City. She is a graduate of Hunter College with
a degree in Creative Writing. In 1959, she left New York to
pursue a degree in Library Science from Berkeley University,
the seedbed of the cultural upheaval in the Sixties. Shortly after
landing there, she succumbed to Timothy Leary's mantra
"turn on, tune in and drop out" and became part of the Flower
Children movement that overflowed the streets of Berkeley
and San Francisco.
After a disastrous marriage to a drug dealer in Berkeley,
she moved to Big Sur, the next Mecca for hippies. Mary
settled there with her three-year-old daughter Aimee in 1967
and gave birth to a second daughter Lucia in 1970.
She chronicles her wild spiritual odyssey in Book One of
her memoir, Love Song of a Flower Child, that received a five
star review from the San Francisco Book Review.
She is planning to publish Book Two called Love Walk,
the Story of a Flower Child and Her Marine, in 2018.
Mary and her husband, John Anthony, a Vietnam War
combat veteran, spent many years doing missionary work in
Eastern Europe, South America, and China. They now live in
the Northern California Sierra foothills, enjoying many visits
with their seven grandchildren.
Poetry remains her singular passion as a writer, and she describes herself as a "Grandma Moses" type, a very late bloomer of the Baby Boomer generation who has just celebrated her eightieth birthday.
You can read her blog at https://lovesongofaflowerchild.com and watch her read poetry on the Mary Stewart Anthony Poetry Channel on Youtube.