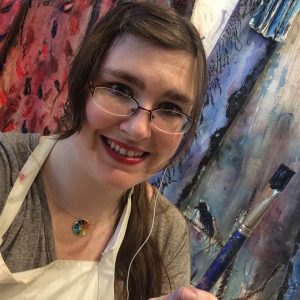 "A Happy Little Nightmare"
Life can be very hard, so Victoria tries to add a splash of color and whimsy by imagining fantastical worlds and beings, exploring the duality between fantasy and reality, light and darkness, life and death, expressing emotion, fantasy and reality, light and darkness, life and death, and re-imagining nature with paint.
Victoria creates fantastical creatures within surreal landscapes, using acrylic on canvas as her main choice of medium. She loves a colorful palette, and creating different textures in some pieces by manipulating and sewing raw canvas, adding 3-dimensional elements such as fabric, rocks, jewelry, etcetera, to elevate the painting experience to bring her fantastical worlds even more to life.
Victoria Fout grew up in Angels Camp, California. She found her love for art at Columbia Community College during the most difficult time in her personal life. Art became a life-raft–a comfort, escape, therapy, and a creative outlet. Victoria is now an emerging fine artist with a fresh and unique perspective. She earned her BFA from the San Francisco Art Institute in 2016. Her artwork has been shown at SFAI, the Calaveras County Fair, Ironstone Vineyards, and the Calaveras County Arts Council.
She currently serves as a Board member at the Calaveras Art Council.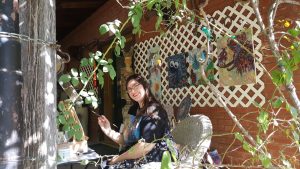 Victoria's mantra is: "Lost within my own darkness I find the colors of expression and joy when I paint. My art is an invitation into my world, welcome."