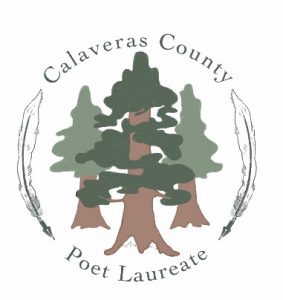 Poetry in the Mother Lode  
Poetry & Journaling at Calaveras Big Trees State Park
$45.00 for the full day! Get Tickets Here! 
Join us at Big Trees State Park in Calaveras County for a day of poetry and journaling on Saturday, July 15, from 9:00 am – 6 pm, with poets Dana Gioia, Lee Herrick, and Susan Kelly-Dewitt, Calaveras Poet Laureate Linda Toren, poet Conrad Levasseur, and poet Monika Rose, Director of Manzanita Writers Press. Get your ticket/s now! The $45 per person for the day includes two workshops in the morning, writing on the spot, a group Walk and Talk with the Poets and docents in the North Grove, journaling on your own, and sharing your work in the amphitheater in a participant reading from 3-6 pm. The day includes readings by the featured poets and a Poetry Out Loud performance by a few regional young poets who will join us. The morning workshops are limited to 75 people, so reserve now.
More information to come, vis-a-vis maps, parking, author information, and details.
Participants are asked to bring their food & beverages for the day since this is not provided, and no restaurants or food venues are available at the park. Bring your folding chair or stool if needed for the trail. Seating areas are limited. Journals and writing implements are not provided. Entrance to the park is also not covered by the event fee. Cost for that: $10 per carload.
Contact Manzanita Writers Press for event schedule, information, and reservation updates. manzanitawp@gmail.com – https://manzapress.com – Workshop Participants  are capped for this event, so register soon.
About Dana Gioia:
Dana Gioia is an internationally acclaimed poet and writer. Former California Poet laureate and Chairman of the National Endowment for the Arts, Gioia was born in Los Angeles of Italian and Mexican descent. The first person in his family to attend college, he received a B.A. and M.B.A. from Stanford and an M.A. from Harvard in Comparative Literature. For fifteen years he worked as a businessman before quitting at forty-one to become a full-time writer.
His surname is pronounced Joy-a.
Poetry
Gioia has published five full-length collections of verse, most recently 99 Poems: New & Selected (2016), which won the Poets' Prize as the best new book of the year. His third collection, Interrogations at Noon (2001), was awarded the American Book Award.
Gioia is best known as a central figure in the revival of rhyme, meter, and narrative in contemporary poetry. Critic William Oxley has called Gioia, "probably the most exquisite poet writing in English today."
Criticism
An influential critic, Gioia has published four books of essays. His controversial volume, Can Poetry Matter? (1992), was a finalist for the National Book Critics Circle award. The book is credited with helping to revive the role of poetry in American public culture.
Gioia has also edited or co-edited two dozen best-selling literary anthologies, including An Introduction to Poetry (with X. J. Kennedy) and Best American Poetry 2018. His essays and memoirs have appeared in The New Yorker, Atlantic, Washington Post, New York Times, Hudson Review, and BBC Radio.
Music & Opera
Gioia has written four opera libretti and collaborated with musicians in genres from classical to jazz. His work has been set to music by Morten Lauridsen, Lori Laitman, Dave Brubeck, Ned Rorem, Paul Salerni, and numerous other composers. He collaborated with jazz pianist Helen Sung on her vocal album, Sung With Words (2018). His dance opera (with Paul Salerni), Haunted, premiered in 2019.
Arts Leadership
Gioia has been an important advocate for the arts and arts education. From 2003 to 2009 Gioia served as the Chairman of the National Endowment for the Arts where he helped create and launch the largest programs in the agency's history, including Poetry Out Loud, The Big Read, Shakespeare in American Communities, and Operation Homecoming: Writing the Wartime Experience.
In Washington, Gioia created a bipartisan majority in Congress to raise the NEA budget each year of his Chairmanship. He was twice confirmed unanimously by the U.S. Senate. Business Week magazine called him "The Man Who Saved the NEA."
California Poet Laureate
Gioia also served as the California State Poet Laureate from 2015 to 2019. During his tenure he became the first laureate to visit all 58 counties of California. His statewide tour became the subject of a BBC Radio documentary.
About Lee Herrick:
Lee Herrick is the current California Poet Laureate. He is the author of three books of poems: Scar and Flower, finalist for the Northern California Book Award; Gardening Secrets of the Dead; and This Many Miles from Desire. He is co-editor of The World I Leave You: Asian American Poets on Faith and Spirit. His writing appears widely in literary magazines, textbooks, and anthologies such as HERE: Poems for the Planet, with an introduction by the Dalai Lama; Indivisible: Poems of Social Justice, with an introduction by Common; and Dear America: Letters of Hope, Habitat, Defiance, and Democracy, among others. He served as Fresno Poet Laureate from 2015-2017. Born in Daejeon, Korea and adopted to the United States at ten months, he teaches at Fresno City College and the MFA program at the University of Nevada, Reno at Lake Tahoe.
Susan Kelly-Dewitt: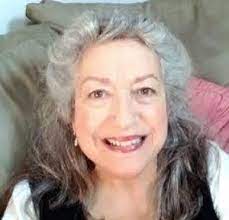 Poet and visual artist Susan Kelly-DeWitt is the author of the full-length poetry collections Gatherer's Alphabet (CA Poets Prize, Gunpowder Press, 2022), Gravitational Tug (Main Street Rag, 2020), Spider Season (Cold River Press, 2016), and The Fortunate Islands (Marick Press, 2008), as well as numerous chapbooks. Her honors include a Wallace Stegner Fellowship from Stanford University and the Chicago Literary Award from Another Chicago Magazine. Her work has been included in many anthologies, including The Autumn House Anthology of Contemporary American Poetry (2011), In Whatever Houses We May Visit: An Anthology of Poems That Have Inspired Physicians (2008), Highway 99: A Literary Journey through California's Great Central Valley (1996) and Claiming the Spirit Within: A Sourcebook of Women's Poetry (2001).
Linda Toren:
Current Calaveras County Poet Laureate, Linda Toren lives in the foothills of Calaveras County with her husband Theo, dogs, a cat, two pigs and many chickens. Linda is a retired teacher and currently director of Voices of Wisdom through Manzanita Writer's Press (MWP). She has presented poetry workshops for children and adults—publishing schoolwide collections of poetry and art at local elementary schools for more than 15 years. Her poetry appears in the following collections Manzanita: Poetry and Prose of the Mother Lode & Sierra (MWP 1995 – 2008), Wild Edges (MWP 2013) Wine, Cheese & Chocolate (MWP 2014), Voices of Wisdom (MWP 2018, 2019), Out of the Fire (MWP 2017), Teaching with Fire (Poetry That Sustains the Courage to Teach) by Sam M. Intrator & Megan Scribner, editors (2003), CollisionV: an Intersection of Poetry and Photography (2018).
Linda produces a community radio program at KQBM Blue Mountain radio which streams live at KQBM.org. Archived shows can be found at archive.org. Search for "Way with Words" Linda Toren. It's a program dedicated to poetry, prose, nonfiction literary news, lyrics and the celebration of thoughts and language.
Monika Rose: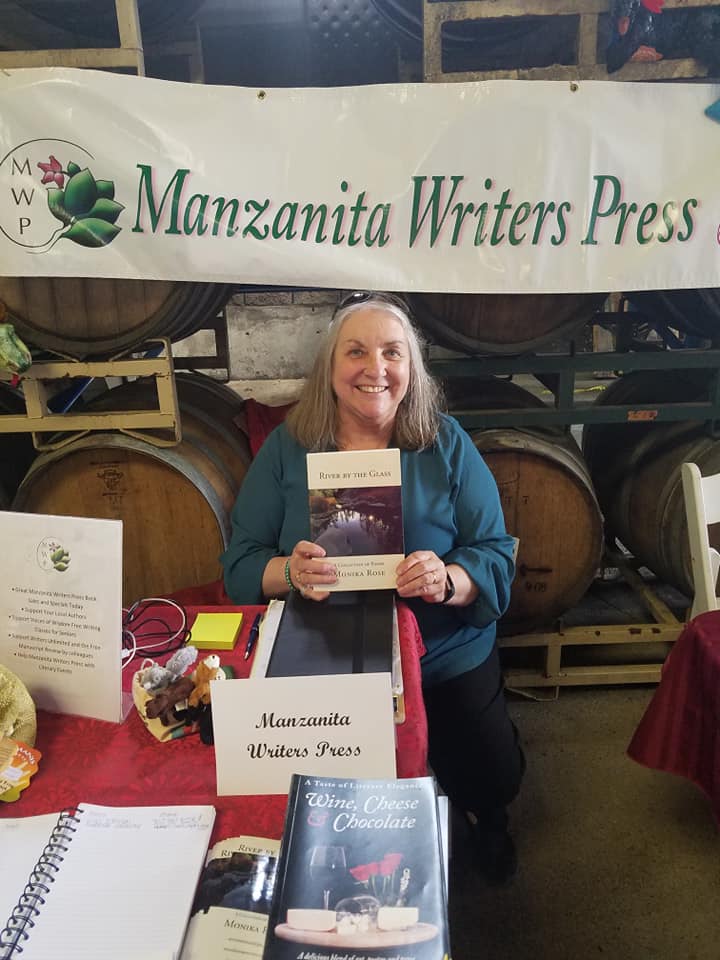 Monika Rose, at home in the foothills of Calaveras County since the early 1980s, living the rural good life with her husband on a small cattle ranch, founded Manzanita Writers Press, a nonprofit literary publisher in San Andreas. She has been published in several anthologies and literary magazines. Busy editing and publishing California authors' books, leading workshops, directing programs, and promoting the literary arts in the region, with nine new books coming out by the press in 2023, she has found some time to work on her writing projects as well. Her book of poems, River by the Glass, by GlenHill Publications, and her children's book for early readers, Bed Bumps, will have company soon with a novel, a collection of short fiction, a poetry collection, and three more children's books. The Call – A Moth Journey, a children's book for grades 4-7, will be released in August of 2023. As an Adjunct Associate Professor of English at San Joaquin Delta College for over two decades and retired from full-time high school teaching, she continues to encourage her students to write their stories.
Her novels to be released in 2024, include Book 1 in an 8-part series of mysteries with quirky characters set in the rural foothill Mother Lode region, which unravels a family mystery involving their home site and a lonely woman caught in limbo when her husband disappears. She believes that he is still alive, and in her unusual method of searching for him in all the wrong places (other people's homes) and finding comfort in a life-sized stunt replica in his likeness, convinces her family that she has spiraled into insanity. Another dramatic novel that will be released is a WWII story of a German nurse in Breslau, the last military fortress city of Germany before The Fall of a once-proud and advanced country, now under Russian control, who is determined to rescue her parents from Russian brutality while entertaining a Russian commander with a penchant for rats (a darkly humorous, at times, drama of German wartime sensibilities set in the throes of a losing battle).
Date & Time
Sat, Jul 15
9:00 AM – 6:00 PM PDT
Location
Calaveras Big Trees State Park
1170 Highway 4 Arnold, CA 95223
Events by Linda Toren – Calaveras County Poet Laureate 2022-2024
Poet Laureate engagements in 2022 – 2023:
Zoom Poetry once a month with Manzanita Writers Press Ning – every 4th Monday at 6:30 pm on Zoom – contact lintoren@gmail.com for the link
Memoir Zooms – every 2nd Monday at 6:30 pm – contact lintoren@gmail.com for the link
Linda Toren, Director of Voices of Wisdom – Free writing classes — facilitated coach training, teaching sessions, and free writing sessions for seniors 50-plus in live workshops and hybrid Zoom sessions, coordinating the program where seniors write prose and narrative poetry in this group. Journaling and writing exercises are a substantial part of the program. An ongoing program in its 7th year, Voices of Wisdom has been a valuable community benefit. Linda has been Director since January 2020.
Poetry teaching in the schools – Amador and Calaveras
Celtic Fair – March 18th (Calaveras County Fair Grounds)
Crafty Chicks Show – April 15th (Calaveras County Fairgrounds) – Pocket poems and passing out literature for the Community Poem Project
Earth Day April 22 (Utica Park) – Community poem project handouts and pocket poems
Murphys Library (April 25th)- presented for the community and talked about the importance of poetry in our community – read from her new book
Ragin' Cajun April 29 ( San Andreas) – community share of poetry projects in the works
Presentation to Calaveras BOS  May 9th (San Andreas)
April 2023 Sharing Poet in the Pocket at various venues
May 10, 2023 Presentation of West Point School Poetry book (an annual event supported by workshops 2022-2023) – 100 poems by Calaveras school children compiled and published in a book — facilitated by the Poet Laureate
June 2023 Poetry presentations to local community groups (rotary, etc.)
July 15, 2023 – Poetry and Journaling at Big Trees State Park event – Facilitator/Coordinator and Presenter
Archives
Saturday, April 30, 2022 –  2-4 pm via Zoom
Join Zoom Meeting  – Must Register by Email to reserve your attendance – contact lintoren@gmail.com – You will receive the link upon registering.
Program includes:
Calaveras County Poet Laureate, Conrad Levasseur, reading his poems
Linda Toren, Poet, reading from her new Haiku book
Kevin Arnold, Poet and novelist, reading from his new poetry book exploring Alzheimer's
Monika Rose, reading new poems from an upcoming book
Poetry Out Loud reciters, fresh from competition with favorite poems
Invited poets from our region – Mac McDaniels, Pru Starr, Annie Robb, Michael Maury, Susan Barich, Chrys Mollett, and more
Public participants invited to read their original or favorite published poem for open mic.
May 2022 – Calaveras Jumping Frog Jubilee and Fair
Linda Toren and Monika Rose conducted the Jumping Frog Poetry Contest for children with prizes for all and grand prize winners for children K-6  – 4 days of participation with at least 50 children participating in the poetry writing at tables in the Professional Art Building.