GET TICKETS HERE for the July 15, 2023, Poetry and Journaling Event at Big Trees State Park! 
You can also mail a check for $45 to Manzanita Writers Press, PO Box 215, San Andreas, CA 95249 – The event workshops in the morning are capped at 75 people, so reserve early!
$45 per person –   Time: 9 am to 6 pm
No host dinner with the poets afterward at Murphys Hotel, dining at 7:15.  Limited seating. Reserve with manzanitawp@gmail.com. This is open to about ten people, so first come, first serve. I will put you on a list. If you can't be seated with us, then the hotel will try to accommodate you for dinner, but you will need a reservation in advance.
Also, reserve your hotel stay in Murphys ASAP, as there are events happening in July that will fill all the hotels in the area. Murphys Suites is nearby. Also, Murphys Hotel. Airbnb locations are also available.
Upcoming MWP books in 2023:
Ginger Bennett Griffin – Affirming Your Life
Stephen Archer –  Fortunes – Book 6 of the Irish Clans series
Suzanne Murphy – Blink – Collection of Poems
Voices of the Grove – Calaveras Voices of Wisdom essay collection – Book 4
Judy Creighton – Cheese Loves Wine – Cheese and Wine Pairing book
Michele Rugo – Farmers Market – Share the Joy – children's book
Doug Alberts – Love Simply – Collection of short stories and poems
Don Urbanus – a mystery novel with a nursery setting
Phil Alberts – Mountain Ranch memories
Monika Rose – The Call – A Moth Journey – Children's book – Grades 4-6
Conrad Levasseur – collection of poems
New books released from Manzanita Writer Press in 2022! 
Kevin Arnold – Do Not Think of Badly of Me – Collection of poems and an exploration of Alzheimer's.
Linda Toren – Raven Braids the Wind: Haiku – A Life in Syllables
Enjoy this book of over 700 haiku about the natural world and our place in it.
ORDER YOUR COPIES of more MANZANITA AUTHORS' BOOKS BELOW
Cate Culver – The Untold History of Sonora Pass and Its People: 1860-1960
Thomas White – Soldier By Chance: Memories of Vietnam
Mother Lode Voices – A Calaveras Anthology – Volume 3
Monika Rose – Bed Bumps – an early reader children's book
and River by the Glass -a book of poems
Stephen Finlay Archer – Revolution: The Irish Clans – Book Five in the Series – ON AMAZON and Stephen's web page and Here!
Stephen Finlay Archer – McCarthy Gold: The Irish Clans – Book Four in the Series
Stephen Finlay Archer – The Rising: The Irish Clans – Book Three in the Series
Stephen Finlay Archer – Entente: The Irish Clans – Book Two in the Series
Stephen Finlay Archer – Searchers: The Irish Clans – Book One in the Series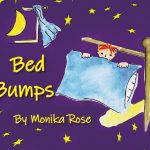 Out of the Fire, a collection of stories, poems, photography from over 50 contributors who experienced the 2015 Butte Fire that devastated the western section of Calaveras County. In the aftermath, poignant stories that help heal and provide hope for anyone experiencing such a shock to the community.
Don Urbanus – Darn Weeds!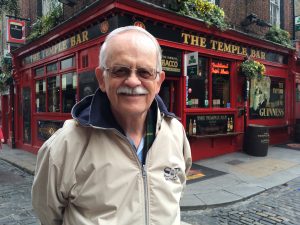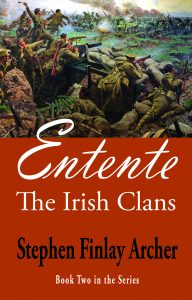 Stephen Finlay Archer's second novel in his series, The Irish Clans, titled Entente. 
The mysteries of an ancient Clans pact deepen beneath the horrors of WWI as Irish Rebels march toward revolution in Book Two: Entente.

Irish Rebels strive for an entente (alliance) with Germany, facilitated by Irish patriot Sir Roger Casement in Germany, to support the Irish Revolution starting with the 1916 Easter Rising. This culminates with the attempted delivery of weapons from Germany to the rebels just before the outbreak of rebellion in Ireland. Will that be successful thereby facilitating the revolt?
Irish Republican Tadgh McCarthy, and his companion Morgan, fight for life, love, freedom, and moral truth in the trenches of Belgium. After that ordeal one of adversarial pieces of the puzzle of the Clans pact is revealed at great risk to them both, although the complexity of its mysteries still confounds our heroes.
Irish-Canadian Collin O'Donnell agonizes over whether his sister Claire is still alive and in peril in Ireland, while struggling to honor his young marriage with Kathy in North America, during and immediately following the birth of their first child. What will he do when faced with the perceived need to take immediate action?
The Irish Clans is an epic saga of five novels immersed in the tumultuous Irish revolutionary period of 1915 through 1923 while the world is embroiled in the Great War to end all wars, and its aftermath. The McCarthy and O'Donnell Clans, once mighty, were overthrown, but are not extinct. They are linked on two continents by a crafty medieval pact, entwined in religious and military history and mythology and using Clan relics, and waiting for Divine intervention to be revealed when the Gaelic heritage is ripe for its second coming. This is an intriguing story of patriotism and passion.
The search is on for wealth, honor, passion and freedom in Book One: Searchers.
This is the first novel in a five-book saga, published in March 2016 that begins with a travesty at sea necessitating searches for life's true treasures, both in 1915 Ireland, when the funeral of O'Donovan Rossa affords a golden opportunity to fan the flames of revolution, and in America, for transplanted Irish families connected to the world of the Irish Clans. Three characters are guided by Divine synchronicity and grapple with destiny —
Claire, a spunky young Irish woman, adrift with amnesia off the coast of southern Ireland and near death, may unwittingly be the key to unlocking an ancient Clans pact treasure mystery. What are her secrets locked in a mind trying to shut out her tortured past? Has she lost, and will she find love in a not-so-strange land?
Tadgh McCarthy, a young Irish rebel sea captain, confronted by a calamity at sea, makes a life and death decision that will reinvent his future — to carry out his predestined mission in the revolution and to validate his birthright as Clan Chieftain. Will it change his loveless life forever?
Collin O'Donnell, a beleaguered young Irish-Canadian, riddled with guilt over the death of his parents and abduction of his sister Claire, must make a crucial decision that may  cost him the love of his life, Kathy. Together they search his past life to find what happened to Claire, at great peril to them both, starting near the dangerous Navy Yard area in Brooklyn.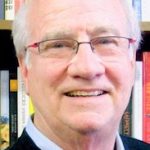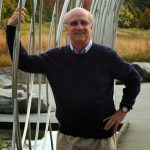 Kevin Arnold – The Sureness of Horses
Set in Palo Alto, California, this softcover literary romance novel blends a transplanted Texas woman's world of equestrian foxhunts and jumping with a man's passion for writing modern poetry, hurling these two unlikely lovers into clashing worlds and sensibilities. Add in Wayne Middleton's regrets in letting down his friend and lusting after the man's wife. It seems as if his life continues to spiral downhill, while the love of his life tries to include him in her world of horses, and he wants to lose himself in this new, enticing pull of the ride.This new novel intertwines the world of Silicon Valley equestrian jumping and foxhunting with poetry meant to woo a sophisticated Texan woman relocating to Palo Alto, one who is not quite willing to give up her connection to her powerful, wealthy husband just yet. Couple that with Wades' guilt over having the hots for his best friend's wife while feeling helpless in his inability to help his friend keep his job. Trouble ensues when Wade's new ladylove rejects his poetry group that she perceives as being sordid and seedy, and he broods over the rejection. Poetry and horses and romance–a perfect combination.