Manzanita Writers meetings in the Mother Lode with Zoom
1st and 3rd Mondays at 6:30 — manzanitawp@gmail.com
Voices of Wisdom – free writing classes and support for seniors 55-plus in the tri-county Mother Lode region — Calaveras, Tuolumne, Amador    – every Friday morning at 10 AM via Zoom- Contact: manzanitawp@gmail.com
Event & Reading 

A Marvelous time was had by all!
Sunday, October 25 at 2 pm at Ironstone Vineyards!
Author talks, signings, new book releases, Voices of Wisdom readers, and so much more!
Join Manzanita authors and writers in an Outdoor Book launch at Ironstone Vineyards in the breezeway/cavern  coming up Sunday, October 25, at 2 pm — distancing and masking up required.  Reservation only: $10 for canapes, a half wrap, and a cup of soup will be lovely!

– Cate Culver: The Untold History of Sonora Pass and Its People – 1860 to 1960 — the author will speak
– Tom White – Soldier By Chance –  (Vietnam memoir)
Author talk
— Voices of Wisdom anthology –
Writers in the anthology will read from the book!
—Stephen Finlay Archer's Book 5 of the Irish Clans: December release – presales and an author talk
MONIKA ROSE, DIRECTOR OF MANZANITA WRITERS PRESS
MARY SEXTON, ONLINE Manzanita GALLERY DIRECTOR
Email: manzanitawp@gmail.com
Call for MORE INFORMATION   209-728-6117
THANKS, EVERYONE!
MONIKA
manzapress.com
manzanitaartsemporium.com •
New address for client meetings, Manzanita Morning Writers, Writers Unlimited evening manuscript review meetings, Voices of Wisdom (free writing classes for seniors), and a place to meet with writers once things clear up:
325 Lewis Avenue, San Andreas, CA 95249
Mailing: PO Box 215, San Andreas, CA 95249
Phone: 209-754-6117 (this number is new)
Email: manzanitawp@gmail.com
Facebook pages: Manzanita Writers Press and Manzanita Arts Emporium
The Manzanita Arts Emporium has closed its doors on Main Street in Angels Camp DUE TO CORONAVIRUS issues and complications. We are saddened about this, but there was no other choice. We could not sustain the onslaught and financial upheaval. We are very happy at our new location in San Andreas for Manzanita Writers Press (by appointment only). We have not resumed regular activities, but check back with us in Summer 2021. 

Thank you for all your support and participation at our Angels Camp location the last five years. We will be getting creative with our projects, but for now, we are taking a hiatus, except for book publishing, which is going strong. We are very busy. If you have a book project you would like to complete, please call us. We would be happy to review your project proposal. See Book Publishing tab and protocol in sending us your proposal.
(ONLINE WRITERS NING IS AVAILABLE to members).
WRITER SUPPORT AND FEEDBACK MEETINGS, LECTURES & SEMINARS, ART RECEPTIONS,  AND OTHER PROGRAMS, are coming back slowly. Contact us to find out more. Writing support may start back up in September as conditions improve.
Publishing services for writers • manzapress.com   Manzanita Writers Press is a non-profit 501(c)3 creative arts organization & publisher devoted to the development and support of the literary, music, and visual arts community in Calaveras County and the wider Mother Lode region.
manzanitawp@gmail.com
manzapress.com    –   manzanitaartsemporium.com •
Publishing Services: Nonprofit 501(c)3 publisher, reasonable services in Editing, Book design and Layout, Book Publishing, Writer Support, Workshops & Classes. Contact us for an appraisal of your book project. We can help.
Manzanita Writers Press is a non-profit 501(c)3 creative arts organization & publisher devoted to the development and support of the literary and visual arts in Calaveras County and the wider Mother Lode region. Manzapress.com and manzanitaartsemporium.com  – manzanitawp@gmail.com
Visit us on our two Facebook pages! (209) 728-6117

Instagram Workshop for Creatives: 3 more dates in 2019:
Insta-1    October 29 – Tuesday, 5:30-7:30 with Sherri Bloomer – bring a smartphone or tablet – $15 class is capped at 10.
Insta-2    November 5 – Tuesday, 5:30-7:30 with Sherri Bloomer – bring a smartphone or tablet – $15 class is capped at 10 – no overlaps from the Oct 29 session
Insta – LAB   November 12 – LAB for attendees of either Insta-1 or Insta-2 – Tuesday – 5:30 – class is capped at 20 participants – $20.
Archives:
Instagram Workshop for Creatives:
Thursday, June 4 – at 6:30 pm at Manzanita Arts Emporium. $20. Sign up now. Limited enrollment. Learn all about marketing and using Instagram for artists, writers, musicians and all creative people. Taught by artists, with expertise in marketing and an eye for what works. Call 209-728-6171 or email: manzanitawp@gmail.com to sign up ASAP.
Voices of Wisdom:
Preserving the Memories of the Elders – Free Writing Classes for seniors 55+ — every week through end of March-  see itinerary of classes
FREE Tuesday afternoon sessions in 2019. Sign up at 728-6171 and manzanitawp@gmail.com
Call to reserve your spot.
Complete Schedule:  click on Voices of Wisdom link above.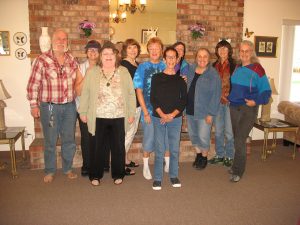 Voices of Wisdom is open to all Mother Lode writers with an anthology planned for an April launch and reading celebration.
Wri
ters Unlimited Meetings on Mondays – see schedule

: free.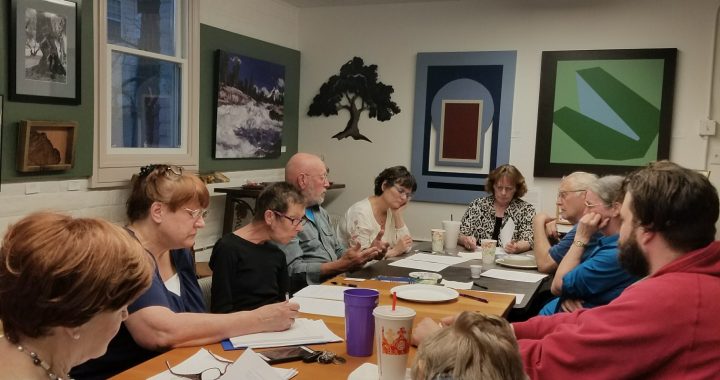 Morning group:  1st and 3rd Mondays –  9-11:30 AM at MAE
Evening group: 2nd and 4th Mondays – 6-9 PM –  meet at the Volunteer Center of Calaveras in San Andreas at 255 Lewis Avenue on the lower terrace of San Andreas Elementary School from 6 to 9 pm.
WU member authors can sell their books in the retail store, receive discounts on writing workshops, classes, events – participate in street fairs, Jumping Frog Jubilee book table sales, book and author signings organized, Wild West Fest in October booth (free), and other events – author writing craft lending library and resources –
Call for more information: 209-728-6171 or email:  manzanitawp@gmail.com
Paint Nights Every third Friday at 6 pm – must reserve ahead – deposit $25 and prefer full payment to reserve.
–with Mary Sexton, a complete acrylic painting in one session!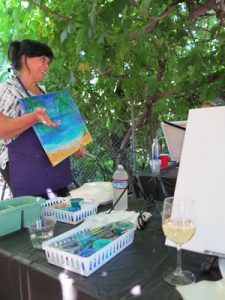 $40.00 per person – all materials provided including canvas, paints, and brushes. Space is limited to sign up now to reserve.
Whim Paint Parties presents:
Paint Nights with Mary Sexton, artist.
Manzanita Arts Emporium, 1211 S. Main Street,

Angels Camp, CA 95222

$40. includes all paint supplies. Wine and beverages and hors d'oeuvres complimentary. For reservations contact

marysexton@comcast.net

 or call

209-770-5818

or Manzanita Writers Press Gallery at 209-728-6171. Seats are limited.

Leave your Stress at the Door, Relax and Have Fun!

Benefits of Paint Parties:

Painting uses both the left and right side of the brain. It uses your creative and emotional side, as well as you rational and logical thinking.
Even in a group setting, painting is a solo activity that allows you to focus on the task at hand, leaving your worries behind, as the stress begins to melt away.
Paint Parties boost your self-confidence.  In a non-competitive atmosphere everyone is treated equally regardless of their abilities.
Learning how to handle a paintbrush helps to strengthen fine motor skills and hand eye coordination.
Painting sparks creativity and makes good use of the imagination. Each painting becomes as unique as it's painter.
At Paint Parties whether, Coffee n Canvas or Sip n Paint, there is always opportunity to laugh, socialize, and make some fun-filled memories.
Mother Lode Storyteller's Guild – Story sharing – open to the public – last Sunday every other month, in the afternoon from 4-6 pm.  July 28, Sept.27, Nov. 24. Free. Donations gladly accepted.