Conrad Levasseur, Poet Laureate of Calaveras County,
speaking and writing on Travel
Link to podcast "Hungry Minds" interview with Levasseur
https://soundcloud.com/user-971403112/silverback-gorillamp3
Aran Levasseur talks with Conrad Levasseur about getting charged by a Silverback Gorilla, staring a deadly Mamba in the face, climbing an active volcano, and other travel stories. Conrad has conducted travel groups through over a hundred and twenty countries and worked as a wild river rafting guide in the western states. He created a 49 mile scenic walk for the San Francisco Ecology Center and directed Lodestar International Student Center for the University of California's "International House." He was a World Travel Destinations Consultant for decades. Conrad is also a poet and has published seven books of poetry. Currently he is the Director of Community Relations and Development at Ironstone Vineyards.
Conrad Levasseur is the first Poet Laureate of Calaveras County from July 2020 to July 2022. Contact him at calaveraspoet@gmail.com
This Tapestry  for Margaret
By Conrad Levasseur
This tapestry
we weave together.
Not quite like
in the days
of the Ancestors.
The totemic guides
today
hunted down & killed
for fear
of powers
grown foreign
to the rational mind.
The spiritual
interconnectedness,
sacredness
of all species …
forgotten.
The Earth,
wounded & scarred,
snatching our
fast lane attention
for us to
momentarily
stop
& listen
to the cries
of her many children.
The inhuman ravishings
among men & women,
the rape of basic rights,
incapable
of being grasped,
understood logically
by eye, ear & brain.
It is
The way it is
because it is.
But there is
another way
of seeing
of being born again
in a planetary heart
that stretches beyond
fundamentalist belief,
that honors
the equal beauty
of rock, tree, flower,
stream, air, animal,
bird, insect & fish.
That lovingly embraces
the full color species spectrum.
I do not pretend to
understand it,
consciously embody it,
live within its awareness
fully;
but, in times
of darkest,
greatest need
I am reminded
of the knowing of it
(forever always here)
through the spirit guides
& shamanic trails
they lead me on.
I have been
directly called upon
by jaguar, wolf, eagle,
bear, hummingbird, mountain lion,
deer & lizard.
and by numerous others
that secretly entered
through the back door
of my skull.
Reminding me
to stop-look-listen-feel-attune           myself
to That Outofwhich I Came.
The Planet burns with a fever
that we have inflicted upon it
And no matter how wild-erness,
rural, or urban we are …
let us know the cure …
by giving
back
the same.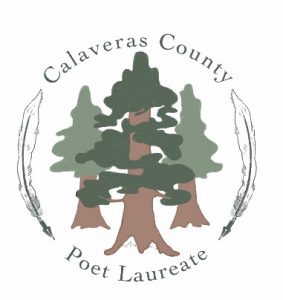 Welcome to the Calaveras County Poetry Blog
Stay tuned for poetry posts, sharing of poetry craft, and more!
Linda Toren has a poetry program on KQBM, 90.7 FM, on 2nd and 4th Wednesdays at 3 pm. This week's guest is the new Calaveras County Poet Laureate, Conrad Levasseur, interviewed by Linda.  Have a listen! Find out more about our new poet laureate and listen to some of his poems read aloud.
Conrad Levasseur was interviewed live Wednesday, July 29, at 3 pm,  on Linda Toren's Poetry radio program, which can be live streamed at KQBM.org (click on Listen) 2nd and 4th Wednesdays of the month from 3:00-4:30 pm. The program can be picked up on the radio in Calaveras County, at 90.7 FM, or streamed from your tablet or phone or computer. Previous programs can be found at archive.org. Search Way With Words Linda Toren. 
Enjoy this article by the Ledger Dispatch about Conrad Levasseur.