About MWP
Mission Statement
Mission Statement
Manzanita Writers Press nurtures and sustains the literary and arts community of Calaveras County and the foothill region of the Mother Lode and Sierra.
PURPOSE
The Manzanita Writers Press at its Manzanita Arts Emporium location, a Creative Community Arts Center, offers a dynamic community center for arts, education, literature, benefiting the rural culture of Calaveras County and local foothill region. It operates exclusively for charitable and educational purposes, including but not limited to:
A. Operating a center for the arts;
B. Conducting and hosting educational, cultural, artistic, literary, and research programs;
C. Engaging in all activities that will further, and are consistent with, the mission of the Corporation, including, but not limited to, lectures, workshops, events, exhibits, conferences, presentations to groups, panel discussions, education, publishing projects, and public relations.
MWP SERVICES:
Facilitate the Writers Unlimited critique group. Organize readings, events, and workshops. Network with writing communities across the state.

Publish local, regional, and other area writers, whether in launching a career, or nurturing a more experienced writer.

Assist selected project writers in procuring funding, editing and promotional services, and other needs of the publishing process.

Train/Mentor Volunteer Editors and staff members.

Sponsor and host Writers Workshops and Conferences in our region

Maintain a Writers Network with organizations across the country to assist our members
Our Staff

Monika Rose . . . Director, Editor-in-Chief
Monika Rose lives in the foothills of Calaveras County and founded Manzanita Writers Press. She is an Adjunct Associate Professor at Delta College with an MA in English, published in several anthologies and literary magazines, and her book of poems, River by the Glass, by GlenHill Publications, is available from Amazon as a print or eBook. Monika is currently working on a novel and short story collection.
Joy Roberts . . . Editor, Business Manager
Connie Strawbridge . . . Marketing Director, Graphic Designer
Suzanne Murphy . . . Public Relations Director, Editor
Joyce Dedini . . . Graphic Designer
Jennifer Hoffman . . . ebook Designer
Jackie Rogers . . . Grant Writer
Stephen Archer . . . Program Director
Cate Culver . . . Gallery Art Director, Historical Liason
Janet Trinkle . . . Gallery Director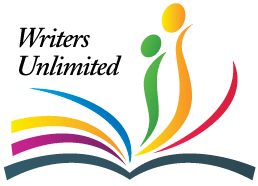 Writers Unlimited is a  gathering of authors who bring their work for peer feedback. The group was founded in 1984 by Monika Rose and has published five Manzanita volumes and an additional three Journal volumes.  With the formation of Manzanita Writers Press in 2009, the Manzanita series and other books are now published by MWP, Manzanita Writers Press, a non-profit 501(C)(3) arts organization.
Flash Fiction
Writers Unlimited members have been known to produce some interesting flash fiction masterpieces. The photograph below illustrates some of the hidden flash-in-the-pan talent of our writers. This photo is found in Glenn Wasson's book, introducing his flash fiction writing.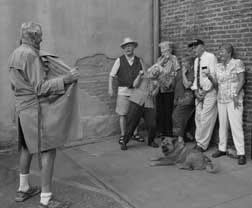 Meeting Information
Morning Meeting Times:
Every 1st and 3rd Monday morning at 10 am
Evening Meeting Times:
Every 2nd and 4th Monday
6:30 until 9:30 pm

Manzanita Arts Emporium
1211 South Main Street
Angels Camp, CA 95223
Evening meetings: Snacks are brought and shared by the collective.  Bring your own bottled water or beverage, although cold water from an indoor fountain is available. You must email Monika ahead to let her know you are planning on coming as seating is limited.  Also, you should attend a couple of sessions before your work is approved for manuscript review. Longtime members receive priority for manuscript review. There is a manuscript and review protocol.  
Contact: Monika Rose, facilitator
mrosemanza@jps.net  
(209) 728-6171